Langhe Hills Getaway
Tour notes
Escape from the rush of the city and indulge in a food, wine and spa experience in the beautiful Langhe Hills. This area, shaped by a colorful landscape, vineyards and the tradition of good food, has been named an UNESCO World Heritage site, and is a treasure chest of gems your local leader is excited to show you. Experience world-class Barolo wine, truffles, the food of an ancient farming tradition, and beautiful spas surrounded by beautiful hills.
Start: Turin
End: Turin
Age: Min 12
In the rare event the minimum number is not reached, and only if the tour is cancelled by LocalWonders Travel, you can opt for one of the following options:
– chose a new departure at no additional cost
– have the tour turned into a private tailor-made tour  (itinerary or price modifications might occur)
– the amount paid can be fully refund.
LocalWonders Travel can decide to run the tour even if the minimum number is not reached. In this case the traveller cannot ask for a refund or to turn the tour into a tailor-made tour.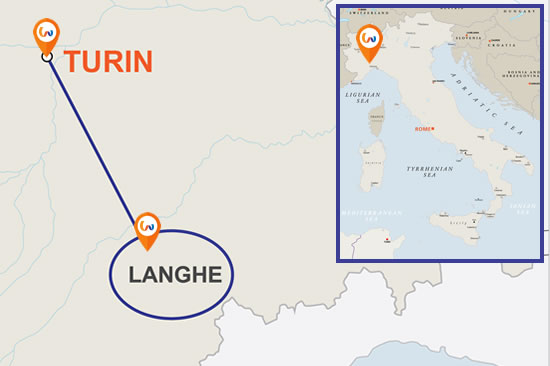 What makes this trip a unique experience?
You'll participate in a real truffle hunt lead by a "trifulau" (a professional truffle hunter) who will take us into the magical woods in search of this Langhe gem
We'll visit the winery of a small wine producer to learn (and taste!) why Barolo is considered one of the best wines in the world
We'll be guests of a local "cuoco" (chef) for a cooking class. This once-in-a-lifetime experience will introduce you to the secrets of a centuries-old culinary tradition
You'll indulge in a supreme-quality spa surrounded by vineyards – the ultimate relaxation!
On this tour we'll be moving between locations by private vehicle
On this tour we'll be staying in top-quality agriturismo (family-run former country homes that have been turned into charming and elegant guesthouses).
All of our LocalWonders Travel tours include a passionate expert local leader who will become your "local friend", opening up for you the most authentic side of Italy. Our local leaders are professional and knowledgeable and take pride in providing hassle-free experiences for our guests.
Is this the tour I want?
Though the main activities on this tour involve food, wine and spa, the truffle hunt activity includes a 1-2 hour walk in the woods.
On this tour we'll travel by private car or van with a driver.
On this tour we stay one night in a quality and comfortable hotel in Turin and two nights in carefully-selected high-quality and comfortable agriturismo (family-run former country homes that have been turned into charming and elegant guesthouses).
Accommodation arrangements for single travellers during our trips include an en-suite twin room, shared with a fellow single traveller of the same sex. However, if you'd prefer a single room to enjoy during your trip, you can purchase a "single supplement" (your own room).
If you are in pursuit of an authentic trip, planned and managed by local professionals with an informal and friendly style without foregoing professionalism and supreme quality, then you are in the right place.
Joining point
Within 3 weeks from your trip departure will tell you the exact address of the hotel in Turin.
How to get to your hotel
Public means
Outside the Turin airport, a shuttle connecting to Torino Porta Nuova railway station (right in the city centre) departs every 15 minutes.  3 weeks ahead of your arrival, we will provide you with detailed information on how to get from Torino Porta Nuova railway station to your hotel. Approximately 50-minute trip. Price approx. €6,50 – 7,50
For more information see the Turin Airport website.
 Taxi
Approximately 40-minute trip. Price approx. €40-50.
Private transfer with driver
If you want us to arrange for a private transfer from the airport to your hotel you can choose the Airport Transfer Option while you're booking and we'll get back to you, to let you know our best rates and to arrange your airport transfer.
Below are approximate private transfer charges (to be confirmed when booking).
Car: 1 to 3 people approx. €55, 4 to 7 people approx. €75.
Finishing Point
Turin Porta Nuova or Turin Porta Susa Railway Station.
Note on Taxi
Taxis in Italy are generally white cars with the word TAXI written on the top. At airports and train stations, they are parked at Taxi Stations right outside the building. For your own safety, do not take unauthorized "taxis".
Cancellation Policy
Carefully read the cancellation policy in section 11 of the Terms&Conditions before booking.
Accommodation and Single Supplement
Accommodations on our tours include a double or twin room with en-suite bathroom for our guests. Single travellers are matched with a fellow traveller of the same sex to share a room. If you'd prefer a single room to enjoy during your tour, you can purchase a "single supplement" (your own room) for €189.
On this tour we stay one night in a high-quality and comfortable hotel in Turin and two nights in carefully-selected top-quality and comfortable agriturismi (family-run former country homes that have been turned into charming and elegant guesthouses).
Note: We do our best to book your single room in the same hotel as the rest of our group; however, on the rare occasion that space is not available at that hotel, you will be booked into a different hotel of the same or higher class located within walking distance from where we're staying.
Occasional alternative accommodation: on rare occasions, it might happen that we have to make a change to the hotel reservation or split the group between two different hotels. Please be assured that in all cases we book in replacement rooms at hotels of the same or higher calibre. Those new hotels will adhere to the same strict quality criteria we always use.
Daily City Tax: depending on the hotel and the city, sometimes there's a city tax added to a room charge (between €1 and €10 per person per night). Our tour costs include this City Tax – no additional charge
Extra Nights: should you wish to add extra nights to your stay here in Italy, either before your LocalWonders tour begins or after your tour has ended, we can help to make those arrangements. Simply select "additional accommodation" when filling in your Booking Form and we'll be in touch to finalize the details.
Travel Insurance
We want our guests to have a truly care-free experience on our tours, and safety and comfort are our main focus. In that sentiment, travel insurance is compulsory for all our tours and we require our guests to have travel insurance medical and repatriation coverage with a liability limit greater than €200,000 (or corresponding currency in your country of origin).
Further, while not compulsory, we also highly recommend that our guests' insurance also covers damages against third parties, property and people, as well as damages stemming from any trip-related events (loss of luggage and personal effects, theft, physical harm or delay).
Need help? Don't hesitate to get in touch with the LocalWonders team at any time. We'll be happy to answer any questions you may have about our insurance policy and, while we don't sell insurance, we can suggest a variety of good travel insurance providers should you need.
Passport and Visa
Non European Union citizens are required to bring along a passport with an at least 6-month validity from the date of entry in Italy and – depending on nationality – travel visas. For  more information on visas, please check on the following link of the Italian Ministry of Foreign Affairs. If you're not sure about the documentation that you'll need for your trip, we highly recommend contacting the Italian Embassy or Consular Offices nearest to you for further information. LocalWonders Travel tour participants are responsible for having required travel documentation (see Section 17 of our  Terms&Conditions). LocalWonders Travel cannot assist you in getting the passport or visa required to travel to Italy.
Though in other countries might be different, in Italy for safety reason, at your arrival at the hotel, your passport will be required by the receptionist for the check-in and the registration procedure.
Professional Liability Insurance
LocalWonders Travel carries Professional Liability Insurance as well as Tour Operator's Insolvency Insurance (required by European law). For more information see our Terms & Conditions.
None of these cover passenger's medical and repatriation insurance.
Transport Means
On this tour we will travel by private transfer with a driver, because the places we will visit are not connected by public means.
Health Conditions
Please read the itinerary and tour notes carefully to see whether or not this tour is right for you. Though no specific training is required for this tour, all of our guests need to be in good physical health. In order to ensure the safety of all of our guests, those with certain medical conditions or limitations might not be able to join parts of our tour.
As concerns vaccinations, please contact your personal doctor.
Cultural Heritage and Stairs
In a country like Italy of such rich heritage, there are many amazing buildings and structures to explore. To do so, there is some stair-climbing involved.
Conduct Guidelines
When moving as a group and – especially – when traveling by train, timeliness is extremely important. In order to ensure that all of our guests are able to enjoy each of the activities planned for this tour, we ask that everyone makes sure to be on time. Should one of our group members be late on the day of departure from the hotel and therefore expose the group to risk of missing the train, the local leader and the rest of the group will go ahead without them. (Of course, that group member will be encouraged to join us again later, but will have to cover any associated expenses.)
The following activities and behaviours are strictly forbidden during our tours:
Use or possession of illegal substances or drugs (including marijuana)
Exploitation of prostitution
Any form of discrimination or verbal and physical violence towards anyone, including other group members, the local leader, and hotel personnel
Failure to follow these rules shall lead to direct dismissal from the tour with no right to any refund whatsoever.
Tour Leader
A professional LocalWonders Travel tour leader will accompany you on your trip. The local leader will plan trip details and logistics taking all of the hassle and worry out of organizing travel (from trains, tickets, restaurant recommendations, reservations and tips for how to make the most of your free time). Your local leader will be your trusted point of reference throughout the entire trip, making sure that everything goes smoothly.
The tour leader will provide authenticity and fun introducing you to the authentic side of Italy, providing interesting (and entertaining) information about the places you are visiting and showing you the best spots, usually only discovered by the locals (including favourite local restaurants).
During "free time", the tour leader is not compelled to join the group; however he will always be available in case of need.
Note:  In Europe there is a difference between TOUR LEADER and TOUR GUIDE. If you're looking for an in-depth introduction to Italy history or art (like a guided museum visit, city tour, or similar), your local leader will be happy to help you to find a skilled and certified tour guide.
Safety
Italy is a very safe country, so long as common sense is used. In busy places like train, bus and metro stations pick-pocketing may be an issue, but following some simple rules will help to ensure you don't lose your valuables:
Never leave your belongings unattended
Keep your documents and money in a neck wallet or money belt
Keep your purse or daily pack in front of you when traveling by train and bus
Do not accept help with your luggage by anyone not wearing a uniform
Luggage Tips
We don't have baggage restriction and on this and tour we will travel by private transfer with a driver. Our guests comfortably use a variety of luggage types, including backpacks, suitcases, duffle bags and trolleys.
Do not forget:
– Travel documents: passport, visa (if required), travel insurance, tour notes
– Photocopy of main passport pages, visa and travel insurance
– Money belt
– Personal medications/prescriptions and a small travel first aid kit
– Comfortable and good walking shoes (better if with non-slip soles)
– Small day-pack for daily excursions
– Electrical adapter plug (see below for electrical outlets information)
– Sunscreen (summers can be very hot, even more than 30° C)
– Swimsuit
– Sunhat and Sunglasses
– A shawl (in churches exposed shoulders and arms are not permitted)
– Clothes and personal effects as you prefer (evening attire not required on our evenings out)
– Attire in case of rain and wind (i.e. a folded and lightweight poncho with a hood)
– A lightweight sweater in case of chilly evenings
– A warm sweather and a jacket if travelling from late October to April
General Useful Information
Electrical Outlets: in Italy electrical current is 220-230 volts at 50 hertz. Italy uses a round, 2-prong plug, type C or F.
Italy Country Code for international calls: the country code for Italy is 39. When calling Italy from abroad dial +39 followed by the area code and the phone number you desire to call. Alternatively you can replace the + with the National Exit Code of the country from where you are calling.
Weather
Italy's climate varies based on season and location. Italy has got hot summers and cold winters, with the southern areas of the country experiencing milder winters and hotter summers. Italy has got four seasons, winter (21 December – 20 March), spring (21 March – 20 June), summer (21 June-20 September) and autumn (21 September – 20 December). Winter is generally cold and rainy (average temperature in the northern areas 0-6°C and 10-14 °C in the southern areas), spring and autumn are mild and dry (average temperature in the northern areas 13-20°C and  15-20°C in the southern areas) and summer is hot and generally without rain (average temperature in the northern areas 20-23°C and  22-27°C in the southern areas). For more informaion check The Climate in Italy.
Currency and Budget
The Euro is the official currency in Italy. There will be ATMs in almost all the places we visit.
Your tour with LocalWonders Travel includes transportation and activities as per itinerary, several meals, and accommodation. It does not include tips/gratuities, additional meals, attractions, or personal expenses. For the meals not included on this tour, we suggest budgeting a daily amount, and while that will vary for everyone, €30-40 per day is considered a reasonable amount.
Tipping Guideline
Should you wish to tip for excellent and professional service, you should feel welcome (though not required).Tips are not compulsory in Italy (as they are in other parts of the world) though they are becoming more common and they can be significant for the people who have taken care of you during the tour. Here are a few guidelines:
Local leaders: €4-6 per person per day
Local guides: €1-3 per person
Restaurant €1-2 per person (or 10% of the service in case of high class restaurant)
Hotel porters (if present) €1-2 per person
Please feel free to tip higher, lower or not tip at all depending on your judgement on the service and what you deem right.
Booking Museum Visits
Visits to the museums in Turin should be scheduled before Day 1 of the tour or after the end of the tour, so as not to coincide with other scheduled tour activities (you might want to add extra nights before the tour begins or after the tour ends). If you are unsure about when best to book your museum visit, contact LocalWonders Travel.
Below is the list of some of the most popular museums related booking information:
Museo Egizio (Egyptian Museum)
Cost/Entry Fee: approx. €15
Recommended time required to visit: 2-3 hours
For information and reservation see the Museo Egizio official website
Museo Nazionale del Cinema (National Cinema Museum)
Cost/Entry Fee: approx.€10
Recommended time required to visit: 2 hours
For information and reservation see official website of the Museo Nazionale del Cinema.
Museo Pietro Micca
Cost/Entry Fee: approx. €3
Recommended time required to visit: 1.5 hours
Information: http://www.museopietromicca.it/html/home_inglese.html
Museo Nazionale del Risorgimento Italiano
Cost/Entry Fee: approx. €10
Recommended time required to visit: 1.5 hours
Information: http://www.museorisorgimentotorino.it/index.php
La Venaria Reale
Cost/Entry Fee: approx. €25
Recommended time required to visit: 3-4 hours
For information and reservation see La Venaria Reale official website.
Itinerary
Day 1: Turin and Piedmont
Turin and Piedmont welcome you! Your Langhe Hills Getaway experience begins here. You'll meet your local leader and fellow travellers in the hotel lobby at 6:00pm for a Welcome Meeting where you'll get to know one another and talk about your trip. All that talking will likely make you hungry, so following the meeting you'll join your local leader at an authentic local restaurant for some delicious Piedmont cuisine. After dinner, if you'd like, you'll take a short stroll around elegant Turin, Italy's first capital city.
What is included
– Accommodation: Quality Hotel centrally located in Turin
– Meals: welcome Dinner
– A night stroll in Turin
Day 2: Langhe Hills – Cooking Class and Wine Tasting
Tajarin, bagna caöda, battuta al coltello di fassone piemontese: these are just a few examples of the delicious typical food found in Piedmont. After breakfast, we'll travel by private van to the Langhe hills, where a local "cuoco" (chef) will welcome us into his kitchen and teach us the secret of this centuries-old culinary tradition. You'll don an apron and help prepare farm-fresh ingredients before enjoying a memorable meal with the chef!
In the afternoon we will discover another Langhe gem: Barolo wine. We have hand-picked a local wine producer for our visit, who will show us around his winery, open his cellar and introduce to us this sensational red nectar. And after all this theory we'll need some practice: let's taste some Barolo!
After the wine tasting we will go to our agriturismo (our home for the next two nights). An agriturismo is a family-run former country home that has been converted into a comfortable and top-quality country guesthouse. Agriturismi have modern comforts, spacious rooms elegantly decorated with antique furniture and a quiet garden for the private use of their guests. Each morning at the agriturismo you will enjoy a rich buffet breakfast made with local products.
In the evening you'll enjoy some free time. Your local leader will be available to provide any help and suggestions you'll need to make it a wonderful evening.
What is included:
– Accommodation: Top-quality agriturismo in the Langhe Hill
– Meal:Breakfast, Lunch
– Cooking Class
– Winery visit and wine tasting
How long will be the trip today?
Approx. 1 hour on a private car or van from Turin city center to Langhe Hills
Day 3: Langhe Hills – Truffle Hunt and Spa
After breakfast, we'll meet a local trifualu (truffle hunter) who will reveal to us all the secrets of the world of truffles and then lead us through woods and hilly paths on a hunt for the famous tuber magnatum! After our truffle hunt, you'll enjoy some free time.
In the afternoon you will have the chance to relax in style. We'll indulge in a visit to a premium spa atop a bricco, a Langhe hill, from where you can overlook all the beauty of the vineyard landscape. Dedicated to relaxation and the care of both mind and body, the spa we have chosen for you, boasts almost unlimited opportunities for rest and rejuvenation: a swimming pool, hot tub, cold tub, sauna, Turkish Bath, and places to take in the stunning scenery of the Langhe Hills while you enjoy a cup of tea.
In the evening we'll go to a traditional restaurant full of personality and hidden in the Langhe hills to keep on enjoying the outstanding products that this territory offers.
What is included:
– Accommodation: Top-quality agriturismo in the Langhe Hills
– Meal: Breakfast, Dinner
– Truffle Hunt
– Spa entrance fee
Day 4: From Langhe hills to Turin City Center
After enjoying a delicious breakfast of local fare at the agriturismo, we will travel together back to Turin city centre where our tour will come to an end.
What is included:
– Meal: Breakfast
Important note for Day 4
The private transfer from our agritursimo to the Torino city centre is included. We'll be in Turin by 11 am, so in case you want to book a flight for the same day, we suggest choosing one scheduled after 3.00 pm, in case you'll leave from Turin Airport, or after 7.00 pm in case you'll leave from Milan Airport.
There are no activities planned for today. If you need help in organizing your airport transfer or purchasing train tickets, just ask. Your local leader will be happy to help you in making these arrangements. Note: If possible, plan for and purchase transportation to the airport a few days in advance – organizing same-day travel can be difficult.
What is included?
The assistance  of a professional local leader for the entire trip
Accommodation in a top-quality agriturismo 
Truffle hunt with a professional truffle hunter
Wine tasting in a local winery
Cooking class with lunch
Afternoon entrance to a supreme-quality spa
Several meals: 3 breakfasts, 1 lunch, 2 dinners
All transfers by private van
An extra-small group (of 8 guests max.)
What's extra?
The truffles that we find on the truffle hunt are not included in the tour cost, but they can be purchased from the professional truffle hunter for very fair local prices.
The following items are not included in the tour cost:
Flights
"Single Supplement" (but you can add this!)
Anything that is not specified to be included